Daytrotter & No Data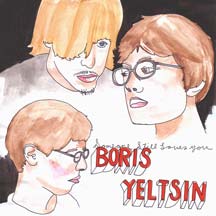 I'm currently obsessed with
Daytrotter
. Have you visited lately? Not only does the site host fantastic album reviews and original artwork, but also weekly band features. These features are (hands down) the best thing happening musically on the Internet right now. Bands drop by the Daytrotter studio, record four live tracks, talk about their music and the daily nitty gritty of being recording artsits. The interviews are intimate and true and often funny. My favorite part is probably the commentaries that bands give for the songs they selected to play for the session. My favorite song description so far is SSLYBY's explanation for "Oregon Girl:" "[It's] supposed to sound like a chase scene through an airport. Think of the McCallisters barely catching their plane to France in 'Home Alone.'"
Here are some of my
Daytrotter Session
favorites:
Cold War Kids:
Hospital Beds
Frog Eyes:
Bushels

SSLYBY:
Oregon Girl
French Kicks:
So Far We Are
Hockey Night:
Who We Are
Conner:
Silent Film Score/Cold Feelings
Maritime:
Calm
Catfish Haven:
You Can Have Me
Without divine intervention,
WOXY
goes silent on September 15th. In addition to countless other particulars, this means the end of the
Lounge Acts
series. For me, Lounge Acts were a way to experience music in a way that felt more personal and connected. Or at least I felt connected. Rather than stepping in as a stand in for Lounge Acts, the Daytrotter Sessions are poised to be a critical addition to the ever evolving discourse on and sharing of music. It's another way to feel connected.
Visit Daytrotter for more bands and complete sets from the above artists... including Bonnie Prince Billy!
And in unrelated news, I'm thinking of switching
Indie Don't Dance
over to either
TypePad
or
WordPress
. I've grown incredibly tired of the messages from Blogger that read " this document contains no data." It's frustrating to loose entire posts, which equal minutes if not hours, of work. If anyone has any opinions on the aforementioned weblog hosting sites, feel free to leave me a comment.