Without a dope beat to step to
It's been a long time since I have posted.
Sorry about the absence.
At first I was busy preparing for the first day of school and getting swept up in the stress of work. However, Katrina came and put things in perspective for me. I have been glued to the television watching my former home drown and then struggle to survive against unimaginable odds. For days I have been trying to contact friends who I have not spoken to since Katrina swept across the Gulf Coast, and watching the news footage searching the crowds for my former students. I know that many of the children who I taught are among the ones that we see crowded in the Superdome, crying for water, and waiting to be rescued.
The people of New Orleans make up a warm and rich community. I fear for the future of New Orleans and wonder what will become of its vibrant musical history and unique cultural heritage. If you haven't already, please donate to the
American R
ed Cross
hurricane relief fund.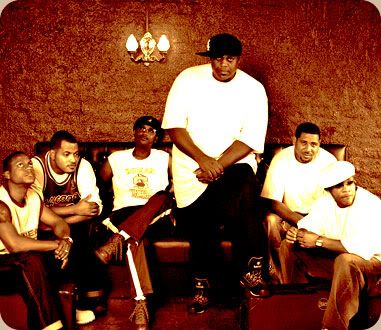 In honor of New Orleans, I want to introduce one of my favorite brass bands
The Soul Rebels
. These six musicians find a way to harmoniously mix hip hop, jazz, blues, rock, and traditional marching band rhythms. The Soul Rebels have taken a traditional New Orleans' sound and made something that is both contemporary while still referencing its brass band roots. The
Village Voice
referred to the Soul Rebels as "the missing link between Louis Armstrong and Public Enemy."
You can link to a 2005 broadcast of the
Soul Rebels
from the radio show
On Point
on Boston's public radio station
wbur.org
. It is a great interview that provides a lot of interesting history about brass band music. You will also have the chance to listen to some of the tracks from the Soul Rebels' new album
Let Their Minds Be Free
.
The mp3s below are from their album
The Greatest Band of All Time
. You will definitely do some soul clapping to these tracks.
Rolling Hard
(mp3)
The Zone
(mp3)
Buy the Soul Rebels' albums at
Amazon.com
.